My friends and I are tuning nuts. What started as a weekend hobby has now become a continual pursuit to modify, tinker, tweak and otherwise "pimp" our assortment of cars to the best of our abilities. Over the past couple of years we've visited some of the UK's leading motor tuning events and shows to chat with fellow enthusiasts and pick up as many tips as possible. Here's a brief look at some of our favourite events.
Modified Nationals
The annual Modified Nationals show, held at the Peterborough Arena, rightly bills itself as the UK's biggest tuning event; five of our group hired a van from Nationwide and took advantage of the on-site camping facilities for our two day visit at the end of May 2016. The event was filled to bursting with attractions across various halls and outdoor exhibition areas.
As with many visitors, our attention was drawn to the Dodo Juice Ultimate display, with some of the hottest cars we've seen on show anywhere. We also really enjoyed exhibitors such as Deutschland and French Quarter Cars, while the smaller club stands were filled with over 2,000 brilliant vehicles and their passionate owners.
The Live Action Arena featured racing and a great drifting event, while we also saw professional stunt drivers and driving demonstrations that were a real highlight. However the big attraction for our group was the chance to get up close with many like-minded enthusiasts and swap stories and experience. The outdoor Show and Shine areas featured hundreds of club and solo attendees who were more than willing to talk to us about their vehicles, techniques and tricks.
The event also included a large music stage which kept everyone entertained throughout, and a rolling road Dyno Dynamics chassis dynamometer was available to test out vehicle performance to the top industry standards – for a mere £40 per entry; bargain!
Ultimate Street Car
While the Modified Nationals was undoubtedly the most packed show we attended, various others were also well worth a visit. For any tuning enthusiast, there are numerous cracking events held at Santa Pod Raceway, close to the Northampton/Bedford country border.
The Ultimate Street Car (USC) show, held each August, is a fantastic event attracting petrolheads and motor enthusiasts from all over Europe. We pitched up for three days of terrific fun with a wild crowd of fellow car lovers; we particularly enjoyed the numerous professional displays, with stunts and jet cars our favourites. One of the main highlights was the chance to see a huge amount of drag races and public track time trials – if you bring your modified car along, you can send it out on the drag track and see what time you can achieve over the quarter mile! With numerous prizes for a wide range of classes, this was really fun to watch, and proved highly competitive.
We also spent lots of time wandering about the show and shine sections, admiring a huge number of cracking cars and modded vehicles; I especially enjoyed the large array of cars with really pimped out audio setups; from enormous, attitude-blasting speakers to more subtle setups, there were some cracking sound systems on display.
Speaking of music, the festival was filled with a party atmosphere from start to finish, with renowned DJs, dance acts, hip hop artists and more entertaining us all across various music zones – something for everyone! Those camping on site could party away through the night to light shows and dance bands, while Saturday night saw a spectacular "flame show" featuring massive exhausts, jacked-up cars and some truly funny entrants.
There was a free handling circuit available to all, and a show paddock popular with both individuals and clubs who could park their rigs out and bask in the admiring glances of the masses! Well worth a visit, and we'll be returning next year for certain.
Ultimate Dubs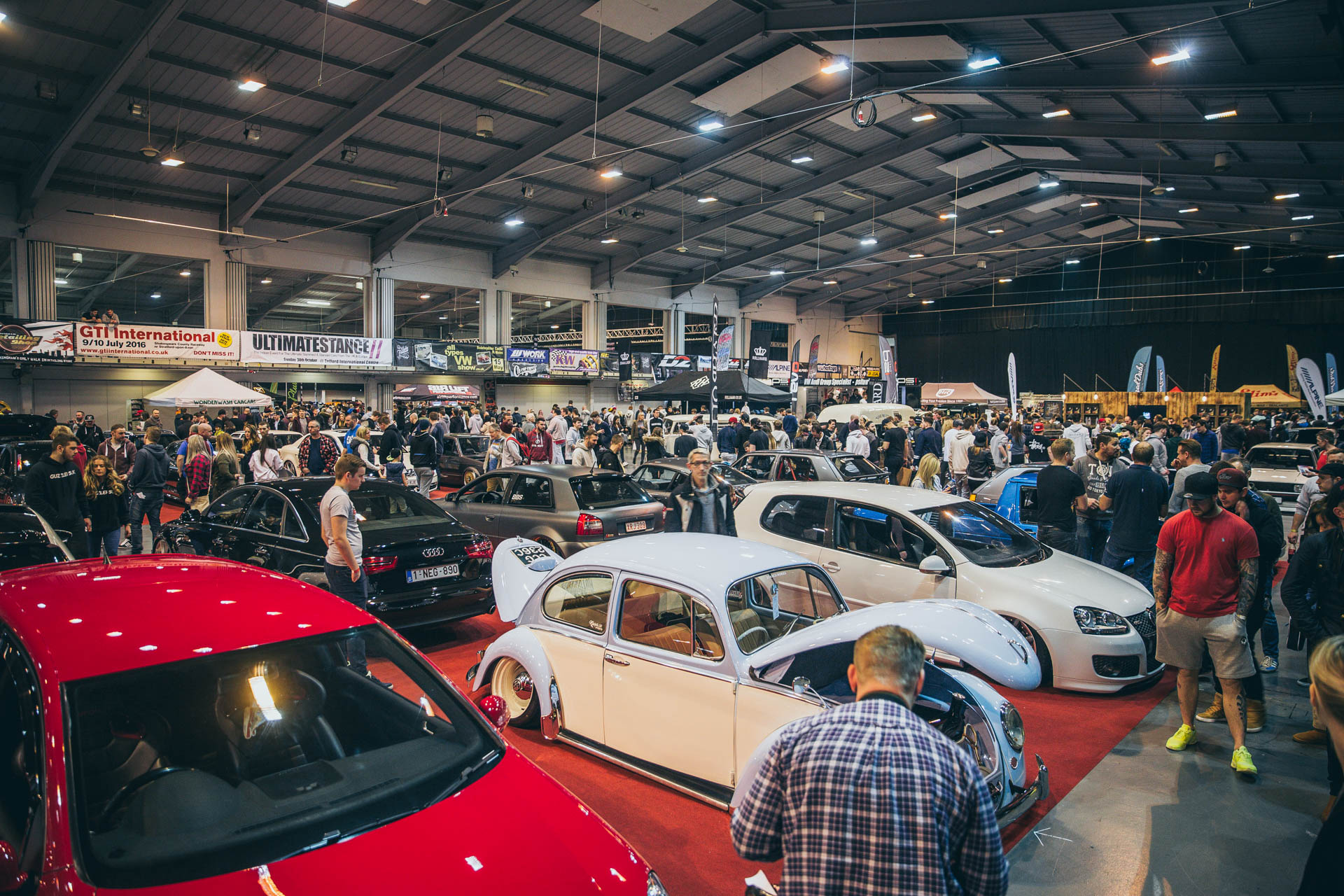 In March we took in the Ultimate Dubs show at Telford International Centre. This one-day event is billed as the "UK's largest Indoor VAG enthusiast's event", featuring a host of VW, Seat, Skoda and Audi show cars from the UK and Europe under one roof. The Sunday afternoon show was a great chance to take a close look at hundreds of modified Audis (as an Audi owner myself, this was especially cool to see); dozens of clubs from across the Channel were in attendance, and we made some real friends with a couple of guys from Germany who had a particular passion for fitting their cars with the loudest sound systems imaginable.
Industry stands were dotted across the centre, with I.C.E., suspension, tuning and accessory suppliers at every turn; there were plenty of opportunities to buy parts, and many were taking advantage by purchasing and fitting mods, clothing and gadgets on-site during the afternoon.
A big part of the day focused on demonstrations and displays, with drag racing, BMX racing, manufacturer displays and detailing demonstrations all on offer. We all had a go on the racing simulators too. 'Nu Wave' and 'Old Skool' vehicles were exhibited side by side, allowing for a really diverse walk around the stands. We were also highly entertained by one of the Porsche displays with loads of cool 911s in action. The Show and Shine was well populated with amateur enthusiasts from all parts of Europe proudly showing their modified vehicles.
The Fast Show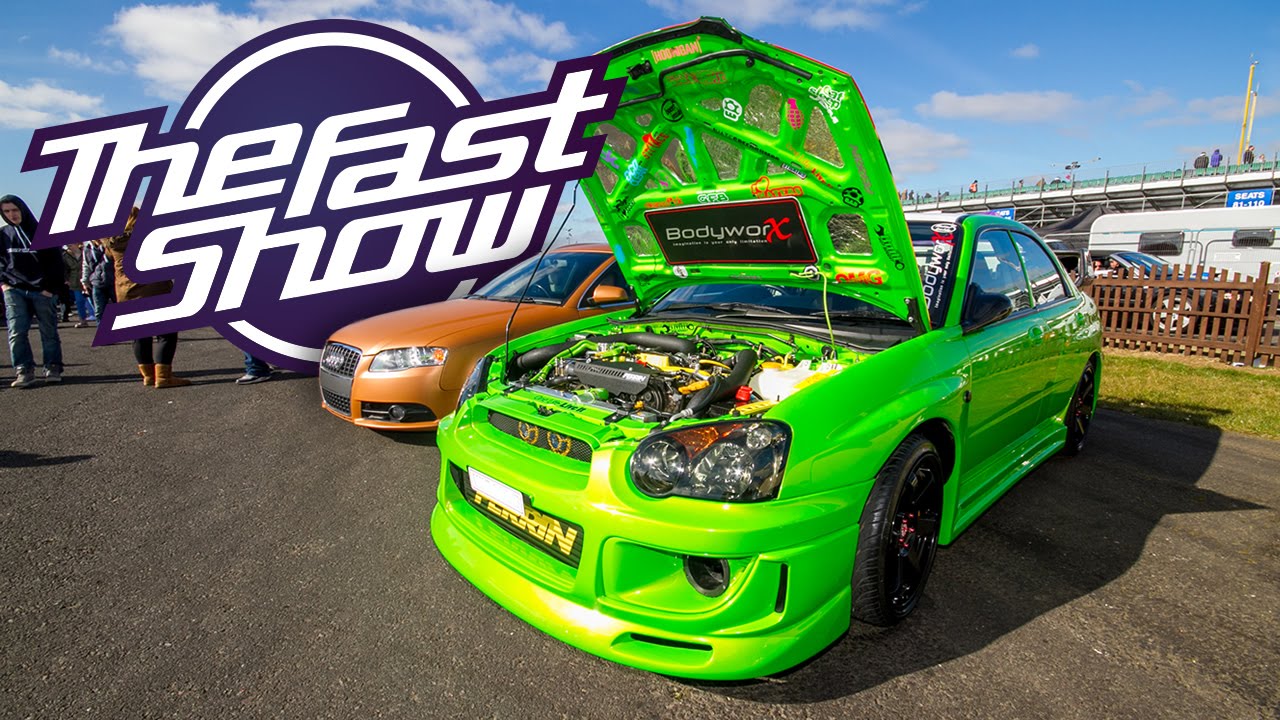 One of the first performance shows on the annual calendar, April saw us back at the popular Santa Pod Raceway to take in a pretty sizeable show over a cracking weekend. From the latest modified cars to classic and retro, there was an exhibit and stands for everything. Much of the event was interactive, with hundreds of people taking advantage of the 'Run What Ya Brung (RWYB)' open event to have a go on the classic drag strip, racing their friends or colleagues.
The event was rammed with thousands of people enjoying the club pitches, professional exhibitors, interactive displays and much more. There was action and fun stuff at every turn, and we really enjoyed mixing with crews we'd spotted at other events in the calendar. Clubs from France and Germany were in attendance again, showing off their modified and performance cars alongside the hordes of UK club and solo pitches. We also got to see the FWD Drag Series (including a few minor spills), and competitors pushing 9 second passes down the strip.
We'd bought weekend tickets so stayed on site, where there was a ton of entertainment to get involved with, from the fun fair to the N2O themed nightclub with some cracking DJs and music throughout the whole weekend. Saturday night saw competitors involved in twilight and dusk RWYB races watched by hundreds of cheering fans. There were drifting and drag events and a great little trade village where hundreds of exhibitors were selling mods, accessories and clothing by the bucket load. The only issue we encountered was a serious delay in leaving after the event closed – with just the one route serving the Santa Pod venue, there was an inevitable jam for those that had parked on-site. Still, it didn't dampen what had been a brilliant start to the 2016 big show calendar, and we'll be back.
Performance Car Show – Birmingham, January 2016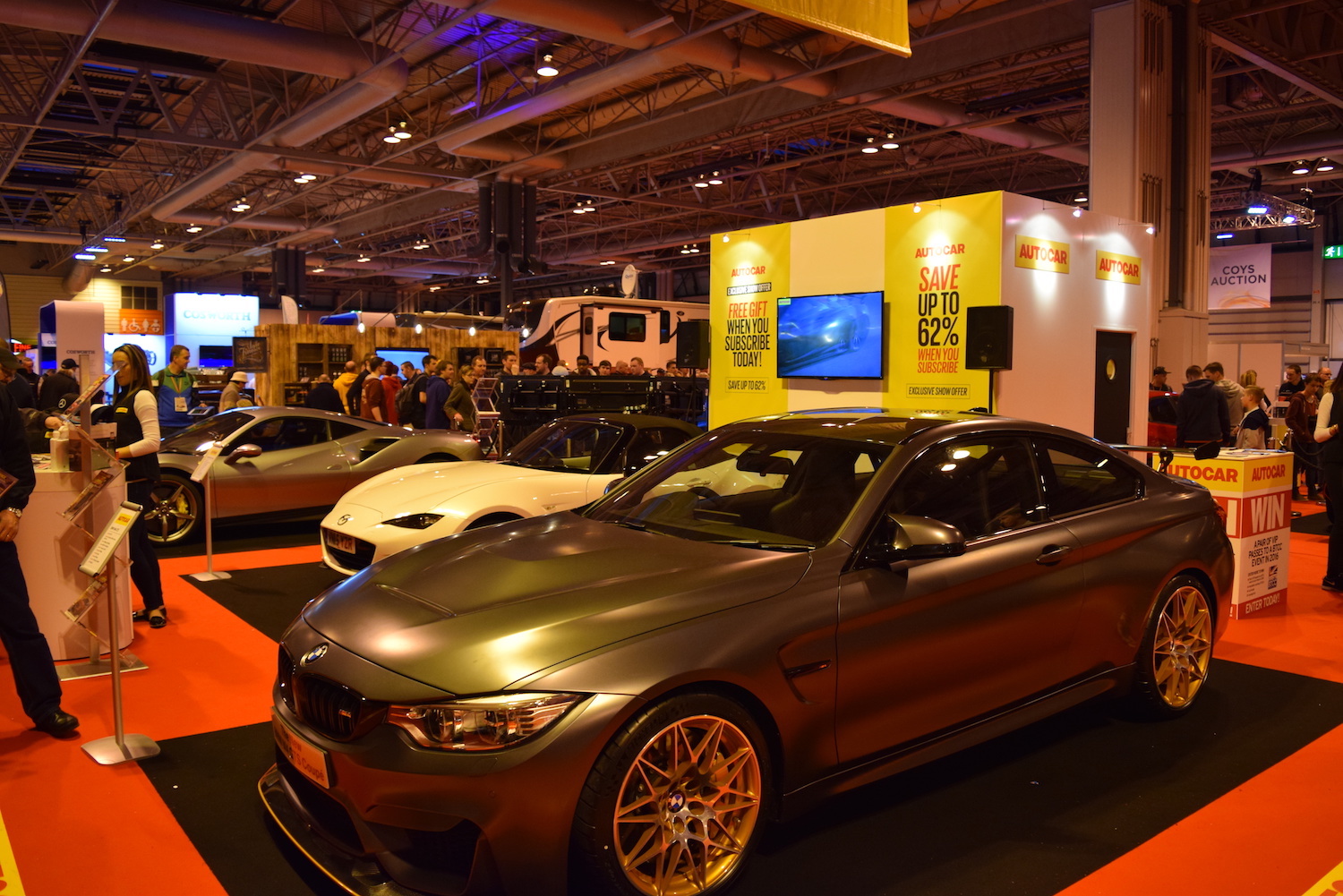 One of our favourite events was the Performance Car Show in Birmingham. It's been running for close to 30 years, and has become an important fixture in the motoring enthusiast's diary. The NEC devotes a million square feet of exhibition space to the event, and pretty much all of it was covered with a huge array of displays, stands, stalls and performance areas. While lacking some of the visceral outdoorsy excitement of Santa Pod, the NEC is a great venue, easy to get to and offering superb visitor facilities – as you'd expect from one of the most popular entertainment and conference arenas in the UK.
A big part of the show was given over to supercar and high-end performance vehicles, such as McLaren, Aston and Lamborghini marques; however, there was an incredibly diverse range of stands and floor space dedicated to hot hatches, kit cars, modified performance cars and to club displays. As with Santa Pod, everyone was highly approachable and willing to discuss their cars in great detail. We also got the chance to partake in the public karting area, which was crammed with willing participants all day.
The entry tickets also gave access to the twin event hosted by Autosport International, with a separate arena showcasing contemporary and historic motorsport vehicles. This was almost worth the cost of admission on its own, and any motorsport enthusiast should take the chance to attend a future event.
The above events represent just a tiny fraction of the available performance and tuning shows on the circuit, and while we'd thoroughly recommend all of them to you, make sure you check out and support your local events and displays too!
SHARE THE ARTICLE